Keto Function Ignite Keto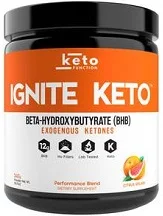 Ignite Keto BHB is a powdered supplement that can be combined with different liquids such as water, nut milk or coffee and which contain a blend of ketones designed to boost you into ketosis. Customers enjoy the variety of three flavors: Caffe Mocha, Citrus Splash and Wild Berry. This is the main factor of how it earned itself a spot in our list. However, we are troubled with the overall idea of sweetened shakes on a ketogenic diet.
The concept of consuming ketones to boost ketosis is based on science, but adding them to an expensive shake is a marketing gimmick. While this keto powder is carb free, it is not calorie free. You can actually consume 90 calories per day from these shakes alone which means you are replacing clean keto eating with empty calories.
Additionally, even though these drinks are sweetened with Stevia, having at least one shake per day keeps your sweet tooth active, instead of training yourself not to need excess sweetness. This is the drawback of drinking a keto supplement as opposed to taking a capsule, like our Editor's choice, Approved Science Keto.
Is Keto Function Ignite Keto BHB Effective?
The BHB salts contained in this formula include three out of the four most common sources – magnesium, calcium, and sodium. Most keto supplements don't include all four, which is why those which do include potassium capture our attention. 
Additionally, the amount of BHB contained in Ignite Keto's proprietary blend of ketones is 12,000mg per serving. This is about half the amount which is contained in the first product we listed.
Many customers report that the Caffe Mocha flavor has a bitter taste, but others say that they like the strong, caffeinated taste.
We did note the absence of MCT Oil or something of the sort, as is included in our top product. MCT Oil is often included in keto supplements to boost ketosis and suppress hunger.
Is Keto Function Ignite Keto BHP Safe?
Keto Function is a safe herbal supplement if it is taken according to proper recommendations. It has no reported side effects and can be taken with most medications.
The only concern with this supplement is overdosing. Some consumers think that they can get ahead faster and see better results by taking more than the recommended amount. It is important to keep in mind that taking more than the recommended daily dose per day could potentially pose some health risks. If you stick with the recommended dosage and stay consistent, you should see results soon enough.
Summary
Our final say is that this powder would need a higher potency, the inclusion of potassium and MCT Oil, as well as getting rid of all the added unnecessary ingredients and calories, in order to get a higher grade. The idea of promoting artificially sweetened drinks in order to maintain a ketogenic diet doesn't seem like a clever way to ensure longevity. Ideally, limiting sweeteners is the smarter move because it trains your body not to crave sweet treats. Once you get used to not expecting something sweet, you'll be able to detect and appreciate the natural sweetness found in vegetables, causing you to crave them. The idea is that the majority of your diet should consist of nutritious food whereas the artificially sweetened drinks should be saved as an occasional treat. Therefore, without some core changes, we had no choice other than to place this product in this spot.
---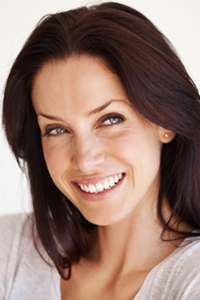 Sally Harper, Senior Editor
Sally graduated with her BSc in Nutrition as well as her MSc in Obesity Science and Management. She worked for over 10 years in the commercial sector treating obesity and is an advocate for a ketogenic lifestyle and the benefits it provides. As senior editor, Sally is responsible for all the content published on this website. From delegating writing assignments to proofreading reviews and articles, there is nothing that escapes her notice or her razor-sharp grammar skills. She is passionate about bringing health concepts and truth to the public and helping to dispel common myths that stop people from functioning at their optimal health levels. A self-proclaimed foodie, Sally's kitchen is always churning out low carb feasts for herself and her partner of 3 years. When she wants to get her heart rate up, she goes for long runs in the hills with her dogs, Max and MCT.
What You'll Discover:
✓
Which Keto Product is the BEST BUY and comes with a great GUARANTEE!
✓
Which formula and ingredients are the most EFFECTIVE and work the fastest?
✓
How NOT to get ripped off! BE AWARE of poor quality and cheap products.
The Top 6 Items to Consider:
Ingredients
Cost Per Serving
Product's Testing Results
Company's Reputation
Consumer Reviews
Return Policy & Satisfaction Guarantee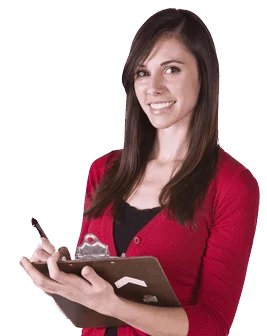 Sign Up For Our Newsletter!
We will send, straight to your inbox, the latest and most relevant information regarding Keto to keep you updated and informed.
Our promise: We will never share your contact details, unless you give us permission. And, we will only ever send you information that is helpful and significant.