Start your day off right with these amazing keto breakfast recipes! Mornings can be incredibly busy and, because of that, many people tend to skip the first meal of the day. In fact, 25% of Americans don't eat breakfast on a regular basis. Your parents may have given you the conventional advice that breakfast is the most important meal of the day, however, with the popularity of intermittent fasting, it's become normal not to eat until lunchtime. Indeed, if people are late-night eaters, they are oftentimes not even hungry for breakfast. So, what is correct nutritionally?
The answer to that depends on what your morning looks like. If you need to focus at work first thing in the morning, you may want to feed your brain right away and not wait until you are starving in order to eat. Additionally, if you find that you have a hard time getting started in the morning or that you are sluggish during the first few hours of the day, you may want to reassess your morning nutrition habits. The keto breakfast recipes here are a combination of foods and drinks depending on whether you need something light or a proper meal. Trying different foods at different times of the day will help clue you in to how your body processes food.
Don't Sabotage Your Keto Diet
The ketogenic diet is unique but it's still a change from your normal eating patterns which means you need to be proactive and not be deterred when it comes to sticking to it. Do you know the one action which sabotages diets all the time? Not being prepared. If you always grab a bagel for breakfast, don't expect that tomorrow you'll wake up and won't be hungry. Additionally, it shouldn't be a surprise when, at the same time every day, you pass by your favorite bakery and realize you haven't eaten all day.

Having keto friendly foods on hand helps avoid food traps at our most vulnerable times. Letting yourself get starving without any keto-friendly food around is one trap that easy to avoid. Most people on a keto diet will always carry around a stash of nuts or seeds for when they need a quick pick-me-up. You want to be able to find something immediately so that you don't get hangry and end up eating everything around you. Here we'll give you keto breakfast recipes so that when you crave something real to eat, you can grab it and go.
One More Tip: Go Shopping
If you find yourself skipping over these keto breakfast recipes because you don't have the right ingredients at home, don't expect your cupboards to magically fill up on their own! It's worth it to go to specialty shops and stock up on keto cooking basics such as almond flour, MCT oil, coconut milk and Stevia. If you've never cooked with these ingredients before, don't be intimidated! These are all natural ingredients which will give you more variety than the chicken salad you've been eating. Having key keto-friendly ingredients in your kitchen will also make them more accessible so that soon you'll be able to create new recipes yourself. The best recipes are the ones you develop on your own when you have all the right ingredients in your kitchen. So get shopping and then get cooking!
Hot Keto Drinks
What would a proper breakfast be like without coffee or tea? Upgrade your regular morning drink with one of these two keto breakfast recipes. If you don't have time to prepare frothy milk in the morning, do it the night before and simply heat it up before you're ready to drink it.
Delicious Keto Pumpkin Spice Latte
INGREDIENTS:
2 tablespoons pumpkin puree
1/2 teaspoon pumpkin spice mix
1-2 teaspoons Stevia
1 tablespoon vanilla extract
1 cup unsweetened almond milk
2 tablespoon full-fat coconut milk or heavy whipping cream
1 tablespoon MCT oil
2 shots strong brewed coffee or espresso

INSTRUCTIONS:
1. In a small saucepan, heat up pumpkin puree and pumpkin spice over medium heat, stirring constantly.
2. Once it's combined and starts smelling fragrant, usually after a few minutes, stir in Stevia.
3. Add almond and coconut milk or whipping cream and simmer until it reaches your ideal temperature, taking care not to boil or burn the mixture.
4. Remove from heat and stir in vanilla extract and MCT oil.
5. Using a wire whisk or a milk foamer, whisk the mixture until it's light and frothy. If you would like to use this for another day, it will keep in the refrigerator for about 4 days.
6. Make coffee or espresso in a thermos or coffee cup and add the pumpkin spice mixture to it.

If you prefer to get your caffeine fix from tea, here's a delicious option you'll find yourself making over and over again:
Chai Keto Tea Latte
INGREDIENTS:
1 cup unsweetened almond milk
2 tablespoons coconut milk
1 tablespoon MCT oil
1 cup strong brewed chai tea

INSTRUCTIONS:
1. In a small saucepan heat up almond and coconut milk over medium heat until frothy. If you have a milk foamer, skip this step and use it instead.
2. Add MCT oil and use an immersion blender or whisk it into the milk.
3. Brew a strong cup of chai tea and pour frothy milk into it.
Keto Breakfast Recipes With A Bite
When your colleagues are snacking on muffins and sandwiches, you can sit and eat with them without getting out of ketosis. Make a large batch of muffins and surprise your friends with how delicious keto breakfast recipes can be!
Savory Keto Muffins With Cheddar and Sage
INGREDIENTS:
6 tablespoons butter
1 teaspoon Stevia
1 cup almond flour
3 tablespoons coconut flour
3/4 teaspoon kosher salt
1/4 teaspoon garlic powder
2 teaspoons baking powder
¼ teaspoon xanthan gum
2 eggs
1/2 teaspoon fresh sage leaves
1/3 cup unsweetened almond milk
1/2 cup shredded sharp cheddar cheese

INSTRUCTIONS:
1. Preheat the oven to 375°F.
2. Place cupcake liners in a standard muffin pan.
3. Microwave butter until it is melted.
4. Mix melted butter with Stevia, almond flour, coconut flour, salt, garlic powder, baking powder, xanthan gum, eggs, sage, almond milk and cheddar and mix well with a fork.
5. Fill the muffin cups with batter until they are about 2/3 full.
6. Bake for about 20 minutes. Check for doneness by inserting a toothpick into the center of a muffin.
Vegetarian Keto Omelet and Cloud Bread Sandwich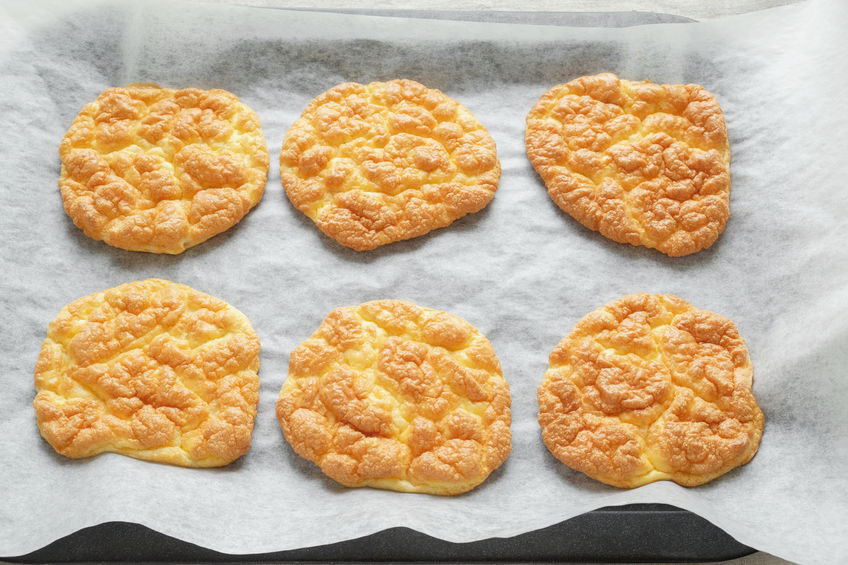 The last thing you might want is another keto omelet recipe as many people find themselves overloaded on eggs when they start the ketogenic diet. However, this collection of keto breakfast recipes would be remiss without it. What makes this keto omelet different is the way in which the spinach is cooked. Instead of lightly sauteing it, spinach is cooked for over 20 minutes until it's almost black. While this may cause you to consume less nutrients, the flavor and the texture are completely worth it. If you're looking for a unique way to replace the carbs you are cutting out, this keto omelet is your answer.

Cloud Bread
INGREDIENTS:
3 eggs
4 ounces cream cheese or goat cheese
¼ teaspoon salt
¼ teaspoon garlic powder
¼ teaspoon onion powder

INSTRUCTIONS:
1. Preheat oven to 300°F.
2. Separate eggs yolks and white into 2 different bowls.
3. Whip up egg whites using an electric mixer or hand whisk until stiff peaks form.
4. In the other bowl whip up yolks with either cream cheese or goat cheese and the spices.
5. Carefully fold whites into the yolk mixture to create a puffier bread.
6. Place 7-8 blobs of mixture on a parchment paper lined baking tray.
7. Bake for about 20 minutes or until they are golden.

Vegetarian Keto Omelet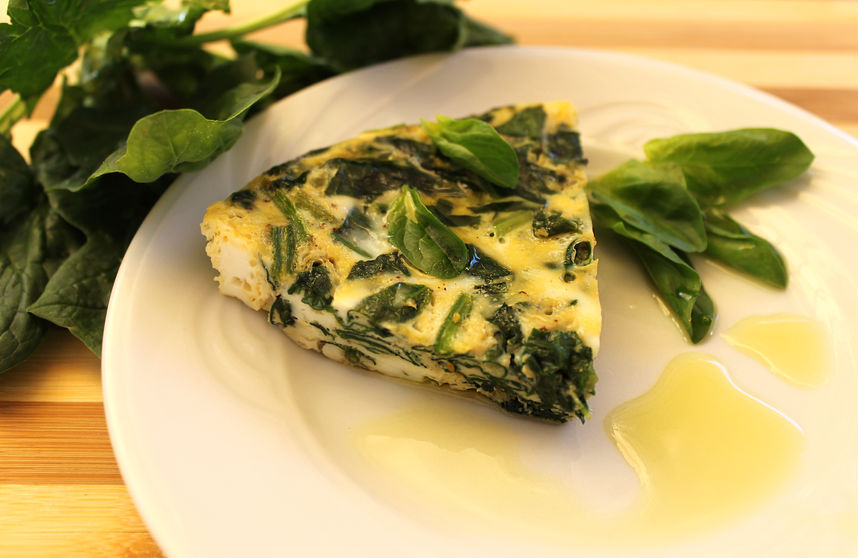 INGREDIENTS:
Butter or MCT oil
3 large handfuls fresh spinach
3 tablespoons fresh oregano
¼ cup fresh parsley, chopped
2 garlic cloves, sliced
4 mushrooms, sliced
3 cherry tomatoes, sliced
3 eggs
Shredded cheese of choice

INSTRUCTIONS:
1. Heat butter or MCT oil in a large pan over medium heat.
2. Add spinach, parsley and oregano and let cook, stirring occasionally.
3. Let spinach completely wilt and almost look black until it considerably shrinks in size. This should take about 20 minutes.
4. Add sliced garlic, mushrooms and tomatoes and continue cooking until vegetables are softened.
5. Add lightly beatened eggs and turn the pan to ensure eggs coat the entire pan.
6. Sprinkle with cheese of your choice and cook until eggs are set.

Enjoy these keto breakfast ideas and have fun personalizing them with different herbs and spices to change things up to keep your keto diet interesting and delicious.

Do you want to find an effective Keto treatment? Check out our top rated Keto products