Keto Chicken Makhani With Cauliflower Rice
We love experimenting with different flavors and textures in our test kitchen and what better way to show off our skills than with a delicious chicken curry. Keto chicken recipes with Indian flavoring are the opposite of the bland and boring classic dietetic chicken. The benefit of a low-carb, high-fat curry is that the rich texture enhances the flavor of the spices and herbs. This dish is loaded with beneficial vegetables and spices such as ginger, garlic, turmeric, cayenne pepper, and cumin.
Ginger and turmeric have powerful anti-inflammatory properties, help to balance blood sugar and improve insulin levels, and are a wonderful way to fight off any keto flu symptoms. Cayenne pepper is not only tasty but it helps to speed up your metabolism and fight off those gnawing hunger pangs during the day. Garlic is filled with potent active compounds that help to boost your immune system and lowers the risk of degenerative diseases caused by oxidative damage like Alzheimer's Disease and dementia. Cumin is a magical spice that adds fragrant flavors to any foods and is very rich in iron, just one teaspoon of this spice accounts for 17.5% of the recommended daily intake for adults. 
Our unique keto friendly chicken makhani and cauliflower rice will not only deliver the powerhouse of nutrients your body has been craving but it is also guaranteed to satisfy your taste buds. Even better, this falls under our category of easy keto chicken recipes that even people who are not counting their carbs will enjoy.
Cauliflower Rice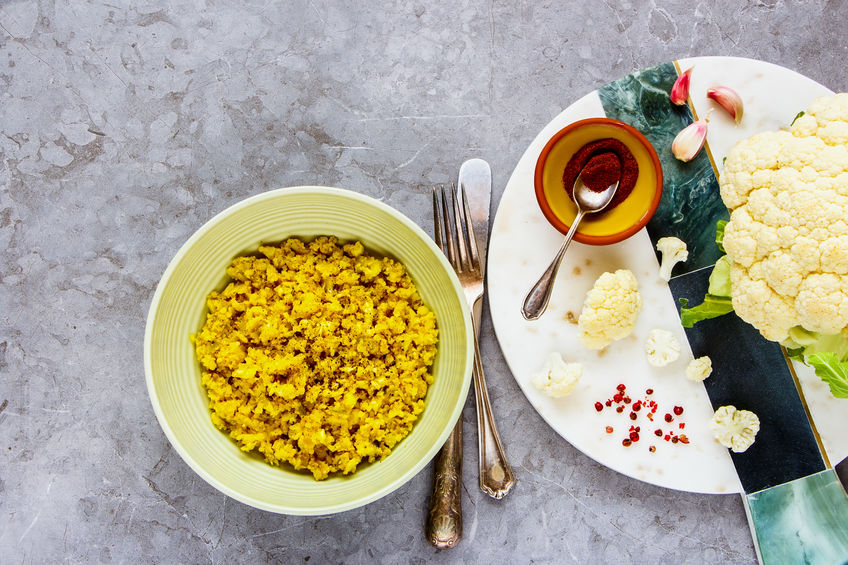 INGREDIENTS:
Yields 4 Servings
1 Large cauliflower head (about 25 ounces)
½ teaspoon Salt
½ teaspoon Curry powder
3 ounces Ghee or coconut oil
INSTRUCTIONS:
Grate large cauliflower head using a hand grater or a grater attachment on your food processor.
Place skillet over medium heat and melt the ghee or coconut oil. Add the grated cauliflower for 5 to 10 minutes or until it has slightly softened.
Add salt and curry powder while the cauliflower is cooking.
Chicken Makhani
INGREDIENTS:
Yields 4 Servings
1.5lb Grain-fed chicken breasts
2 teaspoons Fresh ginger, grated
3 teaspoon Fresh garlic, minced
2 tablespoon Garam masala (or substitute with 1 part cumin mixed with ¼ part of allspice)
4 ounces Plain full-fat yogurt
1 tablespoon Coconut oil
Sauce
2 tablespoon Ghee
½ cup Heavy cream
1 Medium yellow onion
2 teaspoon Fresh ginger, grated
2 teaspoon Fresh garlic, minced
1 ½ cups Tomatoes, crushed
1 tablespoon Coriander, ground
½ teaspoon Cayenne pepper
½ tablespoon Garam masala (or substitute with 1 part cumin mixed with ¼ part of allspice)
2 teaspoon Cumin (skip if you have used the garam masala substitute)
1 teaspoon Turmeric
1 teaspoon Chili powder
Sprinkle sea salt to taste
Optional Garnish 
INSTRUCTIONS:
Dice the chicken breasts into 2-inch pieces, place into a large bowl and combine with the garam masala (or substitute), fresh ginger and garlic.
Add the yogurt to the bowl, stir until combined.
Chill this mixture for at least half an hour.
For the sauce, mix the ginger, onion, garlic, tomatoes, and spices in a food processor or blender until it forms a smooth paste. Set this aside.
Place a large skillet over medium-high heat with 1 tablespoon of coconut oil.
Place the chicken with the yogurt marinade in the skillet and allow to brown for about 3 to 4 minutes per side.
Once the chicken has browned, add the blended sauce to the skillet. Cook for 5 to 6 minutes longer.
Finally, add the ghee and heavy cream to the skillet, stir, and allow to cook for another minute. If needed, add more salt to taste.
Serve with your cauliflower rice and garnish with lime or cilantro.
Instant Pot Keto Sticky Teriyaki Drumsticks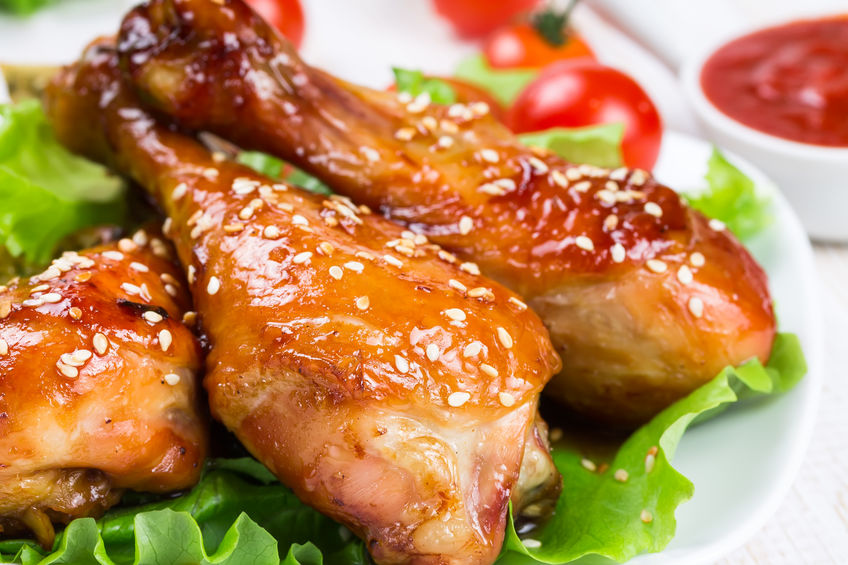 If you're looking for instant pot keto chicken recipes, you have come to the right place! Investing in an instant pot is an easy way to revolutionize the way you prepare and cook meals for yourself and your family. For those of you who are not entirely sure of what an instant pot is, it's a versatile kitchen tool that can be used as a rice cooker, slow cooker, steamer, pressure cooker and more. It is basically an amazing piece of technology that can do the job of multiple other appliances all in one. Why is this helpful for my keto diet? Well, the beauty of this device is that you can create meals in large batches to freeze for later. When you are prepared ahead of time, the keto diet is much easier to follow and the chances of falling off the wagon are lower. It's more convenient to pop a meal out of the freezer for lunch at the office rather than looking for the nearest wholefoods grocer.
Another reason the instant pot has created such a stir in the keto community is that it creates a pressurized atmosphere which not only enhances flavors but you can cook meals that contain the vital nutrients your body needs all in one pot! No extra dishes, no burnt food, just add the ingredients, adjust the settings, set a timer and voilà! You have a delicious meal!
Now that you have your instant pot, plug it in and give this mouthwatering keto chicken recipe a whirl. 
If you are still not convinced about purchasing an instant pot, we have included the cooking instructions for a skillet as well.
INGREDIENTS:
28 ounces Skinless chicken drumsticks
¼ cup Coconut aminos
3 tablespoons Rice wine or alternatively use dry white wine
3 tablespoons Low-carb syrup
2 large Garlic cloves, minced
1 teaspoon Fresh ginger, grated
1 tablespoon Sesame seeds
Chopped spring onion for garnish
INSTRUCTIONS FOR INSTANT POT:
Set your instant pot to the saute setting. When it has heated, add the low-carb syrup, wine, garlic, coconut aminos, and ginger. Cook for 2 minutes while stirring.
Add the drumsticks to the instant pot, cover with the lid and lock it into place.
Set the instant pot to high pressure and cook for 15 to 20 minutes.
Once the pressure has been released from the pot, serve the chicken with a sprinkle of sesame seeds and spring onion.
INSTRUCTIONS FOR SKILLET:
Add the low-carb syrup, wine, garlic, coconut aminos, and ginger together in a large skillet. Cook on medium low heat while stirring for 2 minutes.
Add the drumsticks to the sauce, place the lid on the skillet and cook for 5 minutes.
Turn the drumsticks and cook for another 20 minutes. Make sure you keep the lid on.
Turn the drumsticks again and cook for another 15 minutes until it is tender. Our Handy Tip: If the sauce has not thickened, remove the lid and let the sauce simmer for 2 minutes or until it has thickened.
Remove from heat and serve with a sprinkle of sesame seeds and spring onion.
Do you want to find an effective Keto treatment? Check out our top rated Keto products