Your Italian grandmother might not understand why on earth you would change her timeless pasta dish, but if you want to stick to the ketogenic diet, this is an awesome way to hang on to comfort food whilst sparing yourself major carbs. Instead of mourning the loss of what you cannot eat, give yourself real alternatives to your favorite dishes. By tinkering with flavors and textures, we've come up with a recipe that, whilst not the same as biting into pasta, will surprise you with how delicious and satisfying it is.

If time is an issue, you don't have to make your own tomato sauce, but we recommend it. Not only is it so much better than the packaged stuff, but it is so much healthier! Jarred tomato sauce is notorious for having tons of hidden sugar and salt. Sugar is obviously a no-no for the keto diet, and the combination of both the sugar and salt work together to turn jarred tomato sauce addictive. This is, in fact, true for most processed foods. The result is that people keep eating even when they're not hungry anymore. Taking the small step of making your own tomato sauce is a positive step in the direction of cutting processed foods out of your diet. And, it's faster and easier than you realize.
Why We Love This Recipe
We really love this keto meatballs recipe and are proud to say that we worked hard on this to make sure it didn't contain any weird or hard-to-find ingredients. Many times keto recipes can be daunting because people don't know where to shop for ingredients they've never even heard of before.

The other excellent reason why we love this recipe is that the keto meatballs and homemade tomato sauce can be frozen for later use. (We don't recommend freezing the zoodles, but more on that later.) We like to make a double batch and freeze for a later date.

However, the best part of this recipe is that the rest of your family and friends can enjoy this with you. When changing your eating habits usually means making one meal for yourself and one for the rest of your family, it's difficult to maintain that level of cooking and people tend to give up on their own food prep. This recipe contains no sugar substitutes which can sometimes cause stomach discomfort or any ingredients which are unhealthy. What you'll find here is good clean, delicious food that just happens to also be keto.
Homemade Thick Tomato Sauce Recipe
This recipe for tomato sauce makes a ton, so you can make a large batch and then use it on everything. Ways we have enjoyed it include, serving it with chicken, dousing it over pizza dough, an accompaniment for eggs and drizzled on fish. Feel free to play around with different herbs and spices that you have around the house in order to personalize it according to your specific tastes.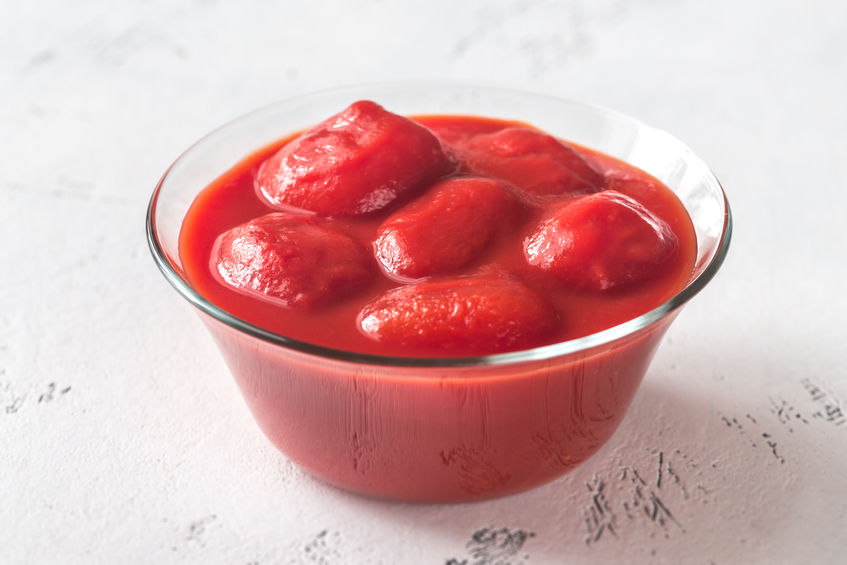 INGREDIENTS:
24 small plum tomatoes, sliced in half lengthwise
7 tablespoons MCT oil, divided
1 tablespoon kosher salt
Pepper to taste
2 medium onions, chopped
3 crushed garlic cloves
1 carrot, diced (optional)
1 28 ounce can of whole, peeled tomatoes (no sugar added)
4 cups fresh basil
1 teaspoon fresh oregano
DIRECTIONS:
1. Preheat oven to 400°F.
2. Mix tomatoes with 2 tablespoon of MCT oil, salt and pepper.
3. Place tomatoes face down on a large cookie sheet and place in the oven for about 45 minutes.
4. While the tomatoes are roasting, heat the remaining 4 tablespoons of olive oil over medium heat.
5. Sauté the onions and garlic (and carrots, if using) until onions are translucent. Take care not to burn the garlic as this will ruin the taste of the sauce.
6. Add the can of tomatoes, with their juice, basil and oregano.
7. When the roasted tomatoes are done, scrape the pan, including the juice, into the onion mixture.
8. Mix all together and let simmer for 30 minutes.
9. Depending on the thickness of the mixture, you may need to add a bit of water.
9. Blend with an immersion blender, food processor or standing blender.
10. Blend as much or as little as you please based on your preference. Enjoy!
Yummy Keto Meatballs
Get ready for the most flavorful keto meatballs you've ever tasted! Your friends and family won't even notice the lack of breadcrumbs as they bite into these tasty treats. The key to making them tender is not overmixing. Once you have the keto meatballs assembled, you can either bake them or fry them and then add them to your homemade tomato sauce. We prefer the latter method when eating right away. Whichever method you choose, you have the option of freezing extra for a later day. Freeze the keto meatballs by themselves right after baking or cooked with tomato sauce.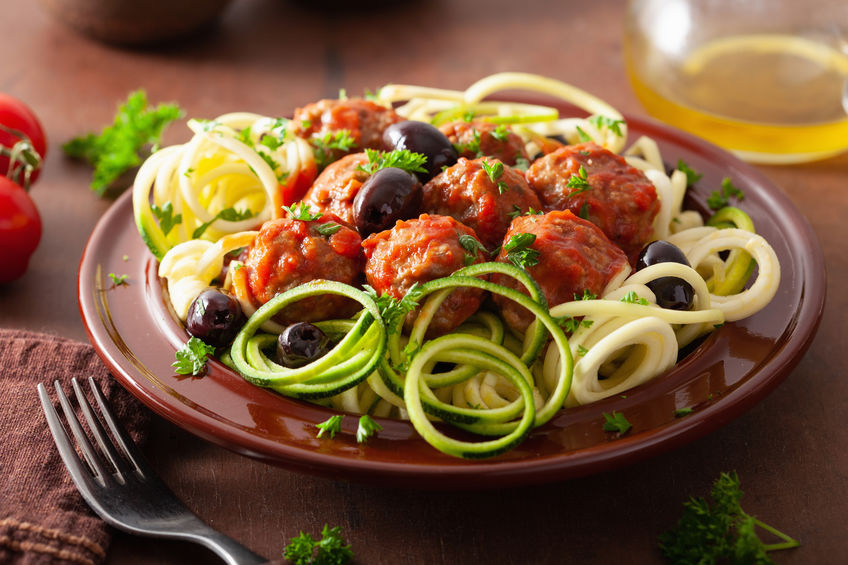 INGREDIENTS:
2 pounds ground meat, you can substitute a part of all of it with ground chicken and/or turkey
2 eggs
2 garlic cloves, minced
2 tablespoons fresh parsley, finely chopped
2 teaspoons kosher salt
½ teaspoon freshly ground pepper
½ cup Parmesan cheese
½ cup almond flour
2 tablespoons MCT oil
DIRECTIONS:
1. Preheat oven to 350°F.
2. Gently combine all ingredients together in a large bowl, being careful not to overmix as this will result in tough keto meatballs.
3. Form into round, uniform balls.
4. Heat MCT oil in frying pan and brown keto meatballs.
5. Add meatballs to tomato sauce and simmer for about 30 minutes or until cooked through completely.
Zoodles Recipe
For anyone who still hasn't jumped on the zoodle train, this is a great way to try them for the first time. Zoodles are zucchini which are cut up in the shape of noodles. To do this, we suggest a spiralizer, but you can also use peelers or even a knife. A spiralizer will get the job done quicker, however, if you've never used one before, take special caution with your fingers! We cannot stress this enough as more than one of us in the test kitchen has gotten some painful cuts.

Another important note is to lower your expectations! Remember, you are still eating zucchini. The taste of zucchini doesn't automatically change just because you have now changed its shape. This is why pairing it with the right foods and spices can make all the difference.

The first time you eat zoodles you may be underwhelmed, but don't give up on them! Many people miss the feeling of biting into bread when they go on the keto diet and find that biting into zoodles helps with that. It may be because they are cooked enough to be easy to eat but still a bit raw which gives them a good crunch. Additionally, they are a great vehicle for whatever you dump on them! Whether you melt cheese on them or douse them in tomato sauce, zoodles are a neutral base which soak up all different types of flavors. Furthermore, they are an excellent way to pack in fiber and fill you up so you don't have to worry about going over your limit of macros.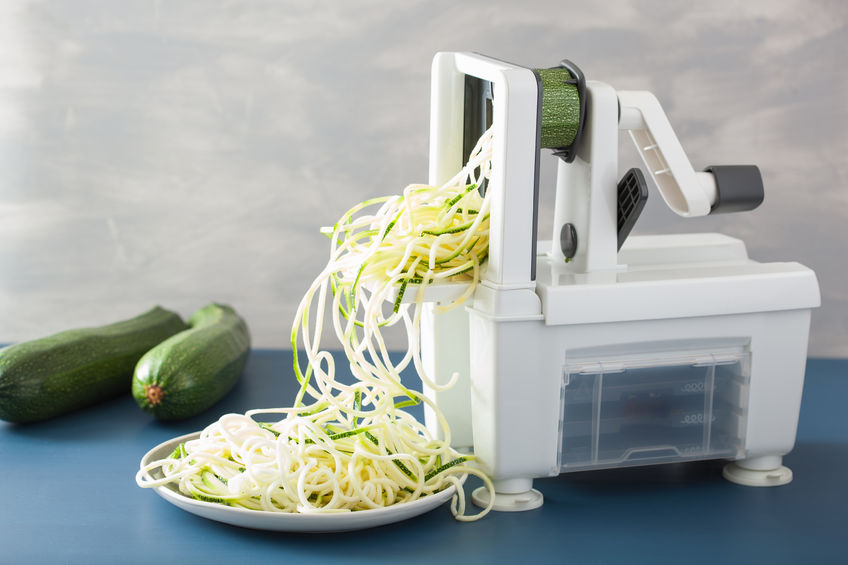 INGREDIENTS:
3-6 medium zucchini
MCT oil

Special Equipment:
Spiralizer or julienne peeler

DIRECTIONS:
1. Using a firm zucchini, with the skin on, make the zucchini noodles. As mentioned above, both a spiralizer or julienne peeler will work well. A spiralizer is worth the investment as they are inexpensive and are super easy to use.
2. Place a large pan over medium-high heat and add the MCT oil.
3. When the pan is hot, add the zucchini noodles for 5-6 minutes, constantly turning them over.
4. Plate and serve immediately with keto meatballs and tomato sauce. Garnish with olives and or parsley.

Do you want to find an effective Keto treatment? Check out our top rated Keto products