Dust off your expensive blender and blast your keto diet into icy goodness with these delicious keto smoothie recipes. In general, smoothie recipes are great platforms to spring off of to create your own concoctions based on whatever you have handy in the fridge . We've included these tasty recipes because sometimes, when you try 'homemade potions', things can get weird and then you've wasted precious avocados for nothing!

We love making keto smoothies in our test kitchen because they're a perfect vehicle for including  keto supplements making is super easy to consume the relevant ketone salts and oils to boost ketosis.  Adding a keto supplement to any of the keto smoothie recipes below, makes it easy to ensure that you take  your daily supplement and don't forget. Taking a daily keto supplement can triple the dietary efforts of following a keto food plan so this is a great way of reaping the benefits tenfold. It's also great for those people who  have trouble taking pills or don't like the feeling of swallowing pills.

Another selling point for making your own keto smoothies is the amount of money you can save. More coffee shops and shake stands are tweaking their menus to include keto-friendly options. This means more of a chance to be sucked in to the appeal of grabbing an expensive frosty drink on the go. Spend your money wisely on new clothing for your shrinking waistline and make your keto smoothie at home instead!

All our keto smoothie recipes below make a double batch because drinking smoothies is more fun with a buddy! Alternatively, freeze extra batter for a keto-friendly popsicle. Keto smoothie possibilities are endless so read below and get inspired to make your own today!
Ingredients For A Perfect Keto Smoothie
1. The Right Amount of Liquid
We're not opposed to eating a smoothie with a spoon, but making a super thick shape will defeat the purpose of grabbing a keto shake to go. For a smooth, easy slurp, make sure you add enough liquid.

We used different liquids in the recipes below. Feel free to substitute depending on the ones that taste best to your palate. Mix and match to create unique tastes and textures.

Ones we love include:
High-fat, unsweetened coconut milk
Unsweetened almond milk
Heavy cream
Water
2. Fat
If you're making a keto smoothie for breakfast or a midday snack, it's going to have to be filling so you don't accidentally fall into the office cookies when you feel an energy dip. Adding fat to a shake will satisfying your hunger as well as continue to boost your body into ketosis.

Examples of yummy fats to use in keto smoothies include:
Almond butter
Pecan butter
MCT oil
Coconut oil
Avocados
3. Substitute Veggies Instead Of Fruit
Some people can't get beyond the idea that fruit must be a key ingredient in all smoothies. While there are some fruits, in small amounts, which are keto-friendly and we do include them in recipes below, vegetables are also an excellent addition to your favorite shake.

Additionally, some people get turned off by eating certain veggies, such as kale. When you're not used to them, rough textures can be difficult to choke down. Pulsing hard-to-eat vegetables in a blender makes them so much more tolerable and the vibrant colors make them fun to drink.

Some of the vegetables we used, include:
Kale
Cucumber
Avocado
Spinach
The First Rule Of Keto Smoothies: There Are No Rules
The keto smoothie recipes below are the ones which passed our rigorous taste tests and tickled our taste buds. We focused on the ones which appealed to a wide range of taste palates.

The best part of smoothies is that they're so easy, even a child can make them. Simply place all the ingredients in a blender and blend until your desired consistency. If you add a keto-friendly sweetener, such as Stevia, we do advise waiting until the rest of the ingredients are blended together before doing so. The longer you're on the keto diet, the less you'll find that you will need the sweetness.
Chocolate Peanut Butter Keto Smoothie With Coconut Milk
Keto smoothie peanut butter ideas abound all over the internet so naturally we had to try them all. We settled on the combination of chocolate and peanut butter because it is so decadent and delicious. Don't leave out the avocado, you can't even taste its presence but it really elevates this drink and gives it a light and silky texture we can't get enough of.
1 Whole avocado, peeled and pitted with the flesh scraped out
2 cups Unsweetened full-fat coconut milk
2 cups Crushed ice or ice cubes
2 tablespoons Unsweetened cocoa powder
4 tablespoons Natural creamy peanut butter
Stevia drops, optional
Vegan Keto Smoothie
There is a misconception when it comes to the keto diet that it can't vegan. Not only is that completely untrue, but actually, there are many benefits to incorporating low-carb veggies into your keto meal plan. Whereas traditional low-carb diets have the reputation of piling cheese on top of eggs and bacon, the keto diet emphasizes clean eating and high-fiber, low-carb vegetables to ensure your body functions at its healthiest.

1 Whole avocado, peeled and pitted with the flesh scraped out
1 cup Fresh spinach
1 cup Coconut milk
2 tablespoons MCT oil or coconut oil, meltedf
2 tbsp Xylitol or 5-8 drops liquid Stevia extract
2 teaspoons Vanilla extract
2 cups Crushed ice or ice cubes
Liquid Stevia extract, optional
Pecan Pie Smoothie
Slightly underrated to its more popular relative peanut butter, is pecan butter. Pecans are usually relegated to Thanksgiving, but that's a huge mistake. Pecan butter is slightly salty with a tinge of sweetness is an addictive combination. Drinking this may not remind you of biting into a pecan pie, but it will give you a satisfying taste of your favorite flavors.

1½ cup Heavy whipping cream
1½ cup Water
4 tablespoons Pecan butter
2 tablespoons Pecans
1/4 tsp Pure vanilla extract
1/4 tsp Salt
2 cups Crushed ice or ice cubes
Liquid Stevia, optional
Cinnamon Vanilla Almond Shake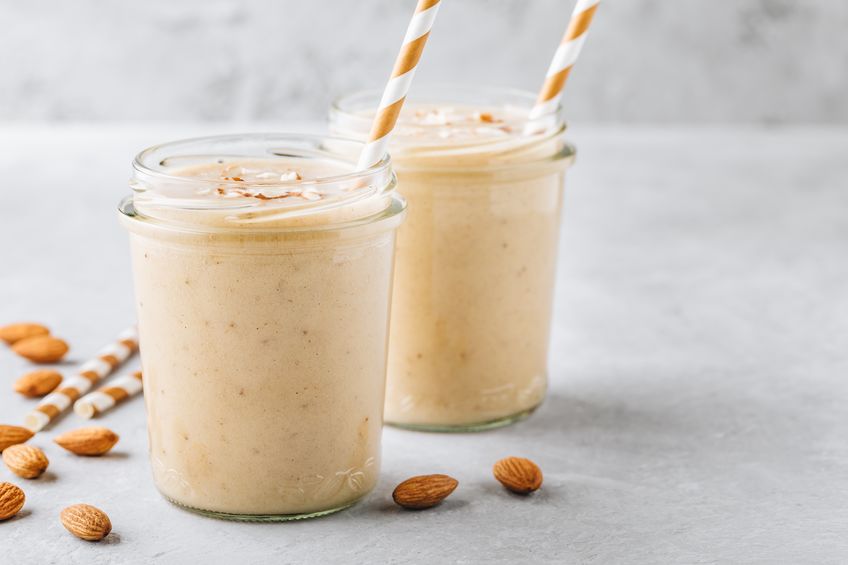 Before getting into the keto diet, we once tried delectable cinnamon vanilla roasted almonds. They were delicious and, of course, full of sugar. Here we recreated all the goodness in this keto smoothie without the offending sugar.

2 cups Unsweetened full-fat coconut milk
1/2 cup Heavy cream
2 tablespoons Almond butter
¼ teaspoon Almond extract
1/2 tsp. Vanilla extract
2 cups Crushed ice
¼ teaspoon salt
½ teaspoon cinnamon
Liquid Stevia drops, optional
Avocado Keto Smoothie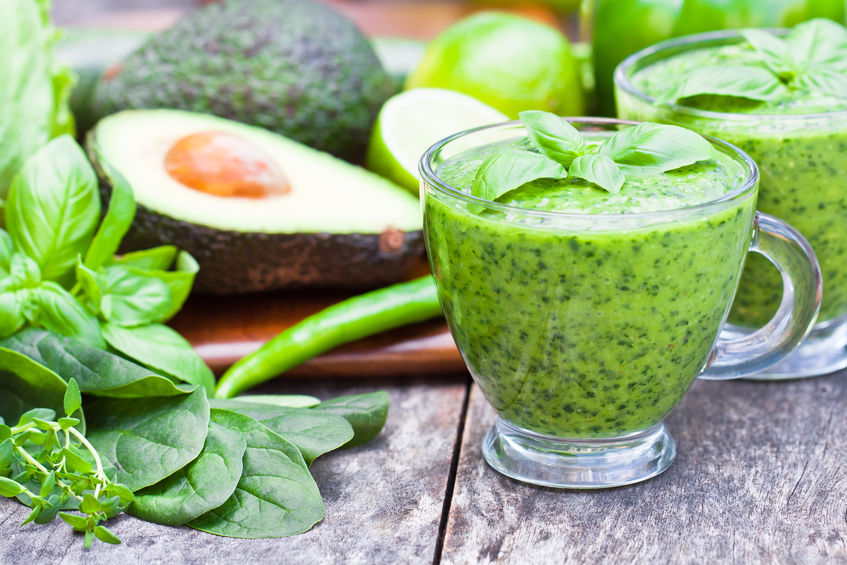 This keto smoothie recipe is heavy on the veg to make sure you consume a good amount of fiber to get your digestive system chugging merrily along.

2 cup High-fat coconut milk unsweetened
½ cup Fresh spinach leaves
1 Avocado, peeled and pitted with the flesh scraped out
2 Celery sticks
1/2 Cucumber
Stevia drops
1 tbsp Almond butter
1 teaspoon Lemon extract
2 tablespoons MCT oil
Another Avocado Keto Smoothie Recipe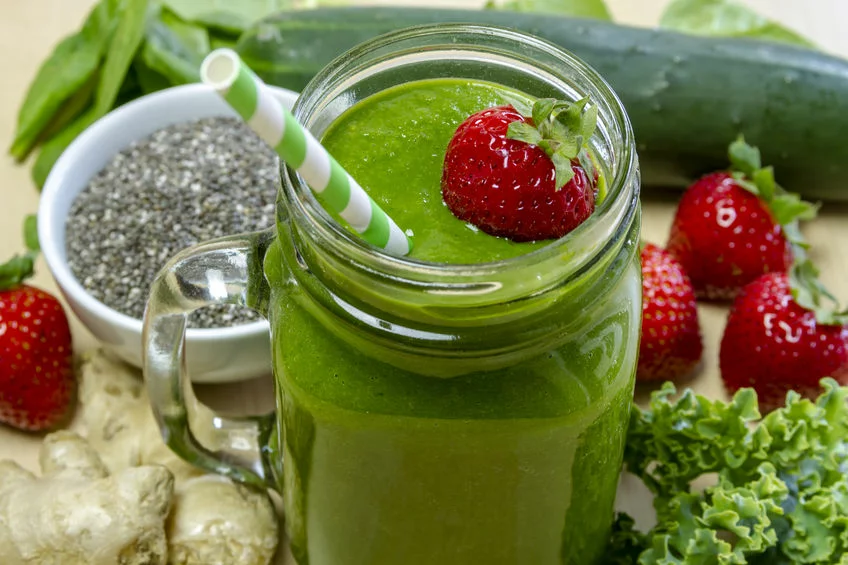 Avocados are so versatile that we had to include them in yet another keto smoothie recipe. They're not detectable in any of the recipes here, but this recipe hides it especially well between the kale and strawberries.

1 cup Kale
2 Avocado, peeled and pitted with the flesh scraped out
4 Strawberries
1 Cucumber
1 cup Full-fat Unsweetened Coconut Milk
1 tsp Vanilla Extract
1/2 tsp Salt
Liquid Stevia drops to taste, optional
Blueberry Keto Smoothie
Take a break from the Stevia and enjoy the sweetness from berries instead. We like to take fresh blueberries and freeze them before adding them to smoothies. This lets us enjoy the fat, juicy summer blueberries in a cool and refreshing way. You don't have to give up summer fruit, just enjoy it responsibly in keto smoothie blueberry.

2 cups Full-fat unsweetened coconut milk
1 cup Frozen blueberries
2 tablespoons Coconut oil
1 teaspoon Vanilla extract
Crushed ice or ice cubes
Save It For Later
If you're sitting at work salivating over these keto smoothie ideas, make sure to save them for later so you don't forget about them. Feel free to pin or share on social media so you can find them when you're ready to make your own icy shake.
Start Experimenting
It's time to bust out your Ninja, NutriBullet or Vitamix and start creating your best keto smoothie. The key to sticking to the ketogenic diet is to give yourself different tastes and textures whenever you can. Food doesn't have to be boring! Get inspired by the plethora of ideas all around you to design the most delicious keto smoothie.

Do you want to find an effective Keto treatment? Check out our top rated Keto products